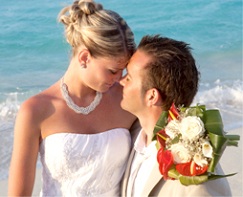 Custom Love Songs
Give your loved one a one-of-a-kind amazing gift unlike any other. There is no better way to tell someone how you feel then to do it with a song!
Perfect for Weddings, Birthdays, Anniversaries and more! Listen to our samples by Vincent James below and for more information please fill out our Custom Song Request.
Update Required
To play the media you will need to either update your browser to a recent version or update your
Flash plugin
.
Our book "88+ Ways Music Can Change Your Life" is now available on Amazon.com and Barnes & Noble. "88+ Ways" features 165 inspirational music stories and quotes including many from Grammy winning & Platinum selling artists & songwriters including Bobby Kimball (Toto), Rick Wakeman (YES), Vanessa Carlton and Simon Kirke (Bad Company & Free) just to name a few. We've also got a wonderful story from Siedah Garrett who wrote "Man in the Mirror" for Michael Jackson and sang with him on records and on tour PLUS Billy Steinberg who counts "Like a Virgin" by Madonna among his many songwriting hits. For more information on the book please check out our latest blog Music Blog or look for it online here "88+ Ways Music" @ Amazon.com
We at LoveSongs.com are embarking on a new Mission to help ""Keep Music Alive". Our goal to get 10 Million More Kids and Adults Playing Music so they too can enjoy the many benefits of being a musician, playing in a group or band and sharing their gift of music with their family friends and fans. Beginning today we'll be sharing inspirational music stories from all over the world each day with a new post. ...Read More
Song Lyrics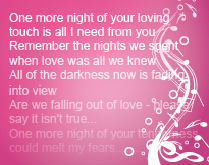 Find the lyrics to your favorite love songs here at LoveSongs.com. We have thousands of love song lyrics with new lyrics being added every month. Click on LYRICS to start searching today.
Wedding Music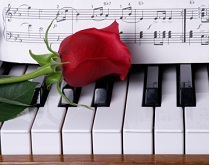 The right music can make your wedding perfect! Our wedding music section offers a multitude of suggestions for both the Ceremony and Reception portions of your special day. Click Wedding Music today to start planning the perfect music for your wedding!
Vote for Favorites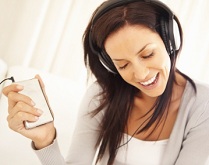 What is your favorite new love song on the radio and online? Tell us about it by voting here today and everyday! Our December winner was "Maps" by Maroon 5 with runnerup "Am I Wrong" (Nico & Vinz). Voting charts were reset January 3rd with several new songs by artists like Sam Smith, Ed Sheeran, Carrie Underwood & Selena Gomez. Click Here to VOTE today!
What's that Song?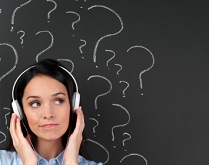 Have you ever heard a song somewhere, and wondered... "Who sings that song?" or "What is the NAME of that song???"
We all get frustrated when we hear a song on the radio or in a Movie/TV show and we're dying to know who sang that song. If you would like help finding your song or artist please click on What's That Song Request and Mr. LoveSongs will help you look.